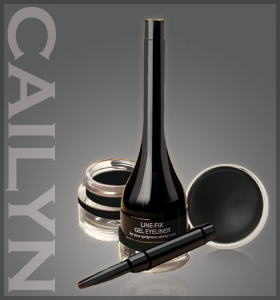 CAILYN Cosmetics
is excited to announce the launch of their newest tool for achieving the perfect eyeline.
Whether she's trying to mimic the eyes of a runway model or the classic look of Audrey Hepburn, the CAILYN Gel Eyeliner can make any style possible. While liquid liners are praised for creating a vivid line, they're an ordeal to apply with a learning curve a mile wide. For the bold look of liquid without having to be a steady handed perfectionist, ladies should reach for a gel liner.
The CAILYN Gel Eyeliner brushes on smooth and stays moist just long enough for wearers to perfect their look. Once dry the gel is smudge-proof and waterproof for 24 hours of office talk or fun on the run. The easy to use built-in brush makes it perfect for taking on-the-go. Create a chic yet casual look right before work, and then update it for a night out with the girls.
To apply, sweep the brush tip across the eyelid starting from the inner corner of the eye and reaching to the outer corner. Try not to blink while the gel dries and then enjoy worry free for the rest of the day! Remember to always clean the brush after use with a dab of makeup remover so the bristles stay soft and supple for many more applications to come.
The highly concentrated pigment of the liner creates lusciously smooth lines and is safe for sensitive eyes. As with all CAILYN products, the CAILYN Gel Eyeliner is completely cruelty-free and is also free of petrochemicals, propylene-glycol, synthetic fragrances, animal byproducts, GMO ingredients, sulfates, triclosan, and phthalates The liner comes in a number of shades including the always popular black, brown, green, blue, and chocolate mousse.
CAILYN cosmetics is the leading cosmetic brand that offers innovative natural, mineral based makeup and skin care products that wearers can feel confident in. CAILYN product lines aremicro-formulated with superior minerals and botanicals plant extracts instead of the synthetics or fillers found in many brands.CAILYN pride themselves in being one of the premiere brand that offer high grade cosmetics as well as advanced skin care products for doctors, spas, salons.